Okay so I have decided to finally get back in shape!
MamaNotes
is organizing this great challenge between us, Twitter Moms! We will follow each other and will tweet with
#bodyafterbaby
hashtag to check up on ourselves and support each other...

Well I started with some work outs (today is my 2nd day) and Monday will start eating right. Let's see how far I go with this... My goal was set up to 10 lbs. of weight loss, tho I wish I could do more than that but who knows, for now, I'll stick to 10 lbs. and see from there... woohoo!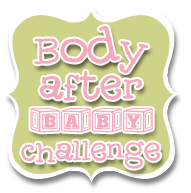 One of my Teammates
Sarah
posted pictures of herself
BEFORE baby - then AFTER baby...
she has inspired me to do the same :-)
One day I used to look like this:
After 3 kids I now look like this:
I will love to get back to the way I was... do you think I can???